Behind the Scenes with Charlotte: The Evening Clydesdale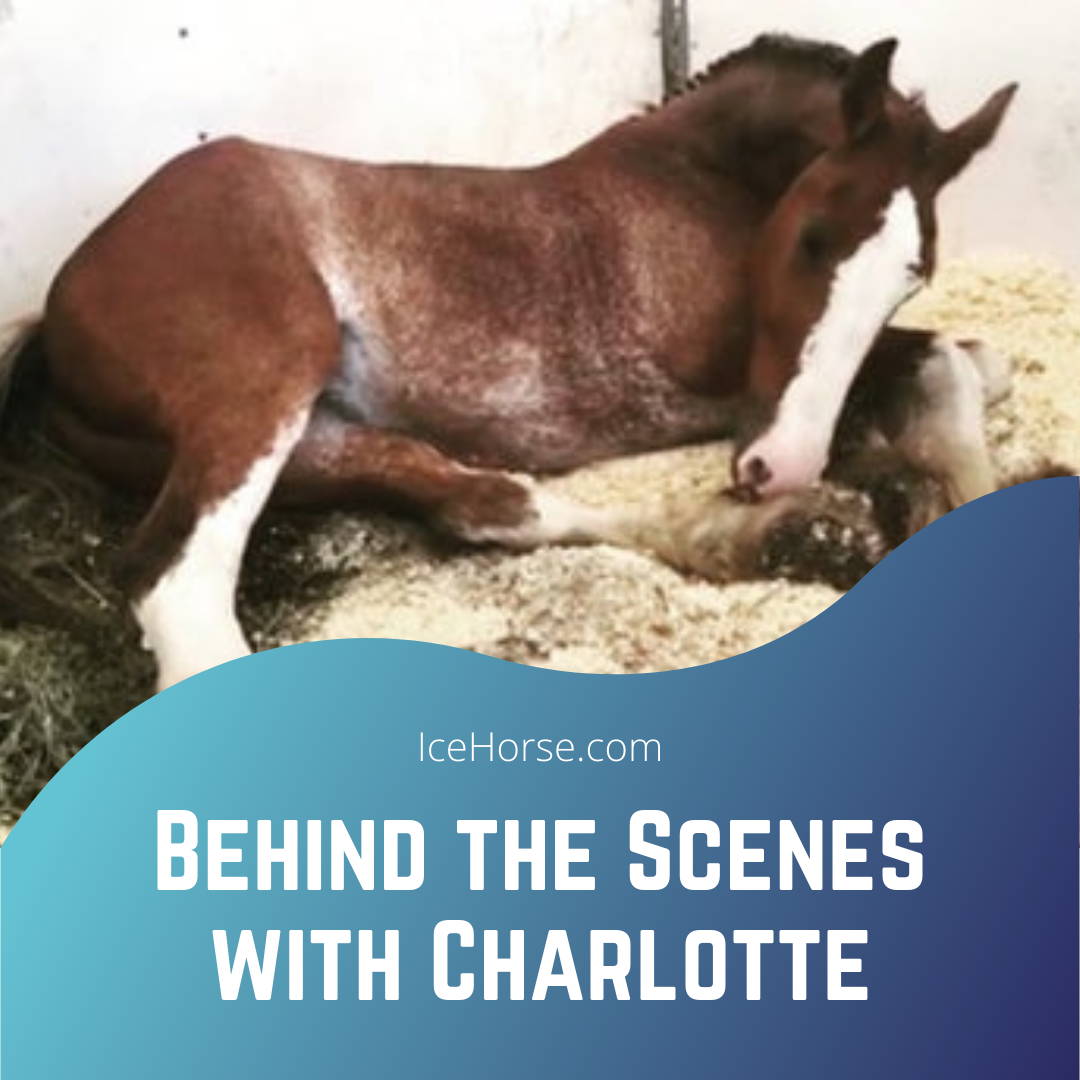 We asked Charlotte's owner and rider, Cortney, some questions about what it's like to take care of Charlotte - the feathers, the legs, and going to shows. All while breaking the mold of what a typical eventing horse is.
Tell us about Charlotte!
My mare Charlotte is 9 years old this year, described on her registration as bay with white hairs throughout. In person she looks very roan. With a large white blaze. Her personality is so willing to please no matter who the person is. Her eyes are so soft and have such a personality its like you can tell what she is thinking. She has very large hooves and a beautiful thick tail. Her only conformation flaw is her severe parrot mouth!
How did you come about owning a Clydesdale?
What came first: eventing or the horse? I was in search of expanding my vaulting career and found charlotte as a potential vaulting horse. So, to answer your question the horse came first. I did a lot of research on different draft horses for vaulting, the most common was a warmblood or draft cross of sorts, they have the build for a team of people to do vaulting but they also were more common for there stamina compared to a full draft. Charlotte is a full draft but her conformation is smaller and more petite in our favor.
What are some of your daily grooming challenges?
Feathers are a huge challenge. Brushing, detangling, and keeping them dry is the largest challenge. I bought her own hair dryer so I can wash the feathers and dry them in the winter or on rainy days. Charlotte's mane grows like crazy, I swear I thin and pull her mane once a week and it doesn't change much. Her thick mane makes for difficult braids for the show but they look so fancy when they are large and they stay way better than the small ones. I also do yarn braids instead of the rubber bands. Charlotte has a love hate relationship with her face, She loves certain parts of her face brushed after a ride when she is itchy from working so hard. But before you ride you can only brush in the middle of her blaze, haha. Sometimes even Charlotte acts like a picky mare. On a good grooming note, she loves belly scratches! We use hoof conditioner, MTG for her tail and feathers, and she's well pampered.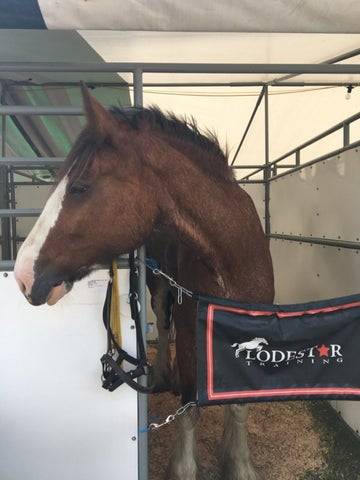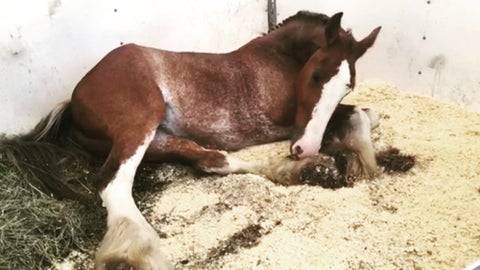 Tell us about the feathers!
The feathers are a hassle but definitely not a burden. I read a few different articles about how the feathers are there for a reason. They are hard to keep up, with the risk of scratches or mites. But they also help with the water run off from her hooves. I did shave them when I first got her because her scratches were really bad, she would lay down to itch her legs or rub them on any water bucket or trough. This sometimes ends with a broken bucket or two from her sitting on it. I noticed in the rainy season that her hooves started cracking and the scratches did not get better. With proper care and keeping them dry and clean she is very comfortable and happy. They are also very flashy, with out them I think she may look like a TB/Clyde cross and she now stands out in her true colors. One of the only down falls to the feathers is finding boots to fit her legs. Her legs are one size and the large fluffy feathers add another layer. I have a sizes XXL for her back legs and even they had to be stretched a bit before they fit. Her feathers some times poof out at the bottom like bell bottoms!
How have the feathers helped or hindered your ability to care for her legs?
Along with everything else, I do use a prescribed spray from the vet if she seems at all uncomfortable or starts itching her legs.
What's your post ride leg care routine?
I check all legs thoroughly of any heat or swelling. Check also for any new nicks or cuts in case she is over compensates or over reaches. Normally after work she gets cold hosed and her legs get iced depending on the work done. Charlotte absolutely loves the comfort of Ice Horse products along with Back on Track products.
Are there any challenges of owning a draft horse that jumps?
First off is trailering, we need an extra large wide trailer to travel in. Thankfully my trainer has a large trailer that she fits in comfortably for the time being. Another challenge is fitness, we cannot take too many days off. We have to keep up the stamina and endurance. Along with fitness, we are not the fastest. At competitions we cannot afford to loose time with stops or refusals. We pace our selves and don't use up too much of our energy in the warm up ring. We warm up over a few fences before setting out onto the cross country field. One of the biggest challenges is that Charlotte is aClydesdale. It is in their nature to pull a wagon or cart, however we are now telling her to not pull against me but sit back and collect before jumps which is the complete opposite. It was difficult to teach her to rewire her brain. My own fitness is a challenge as well. I have to keep myself sharp and in shape to keep up with her fitness levels. She can not be pushed around, I can't make her do anything, but I need to be able to try to support her.
One of the many perks to owning a draft horse is its like riding a comfy couch. Harder to fall off as well if she gets spooked or jumps sideways. Another perk is that I keep her barefoot, we do not have any issues slipping or getting around on grass or sand.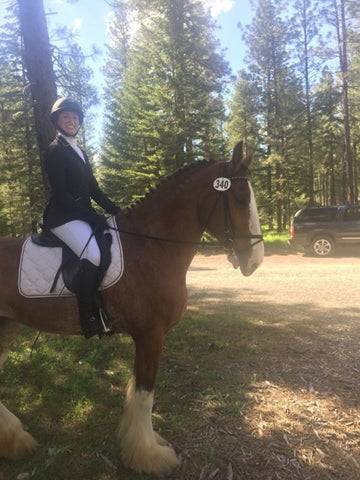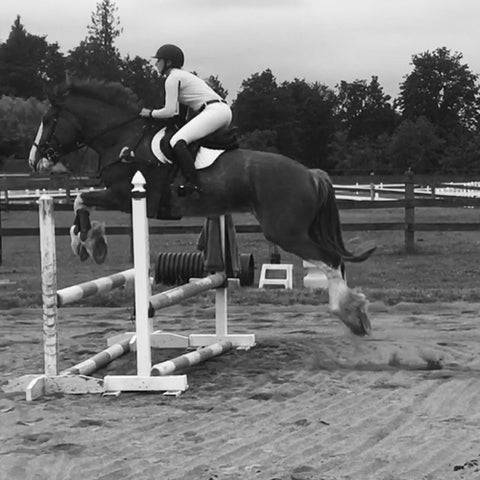 How do you support the rest of her health?
Charlotte is very much pampered, she has monthly chiropractics that I schedule around her shows so she is in tip top shape and very comfortable. Her hooves are trimmed every 6-8 weeks, they grow pretty fast for a barefoot horse. One of her major health issues is her teeth. She has severe parrot mouth that thankfully does not get in the way with her day to day eating, drinking, riding etc. However she does have to have her teeth done every 3-4 months.
How does Charlotte's training routine differ from a TB or Warmblood?
This is my first year of eventing so I have not really had the opportunity to ride and jump thoroughbred and different warmbloods. My trainer has done an amazing job changing up her techniques to fit with our partnership. We train 5-6 days a week. I believe we need to train harder and longer than most of our fellow competitors due to her size and stamina. Its so much harder to get around the arena and cross country field for her so, I set her up for success by keeping up her endurance year round. We do lots of hill training and galloping on the track at home. In warm up we conserve energy by only warming up over 3-5 fences or so to feel confident but also to not waste any energy. For example we went cross country schooling today and we warmed up a little walk trot and canter. We keep up over all the jumps and she was actually not nearly has sweaty or tired as the other horses and it takes a lot more to get those large legs over the jumps!
A typical work week for Charlotte : Sunday- hills/trail/endurance Monday- flat/dressage Tuesday- jump lesson Wednesday-trainer (jenny) rides Thursday- flat/dressage Friday-track work/ground work or she will get this day off as well depending on how intense the work week was. Saturday is her day off!
What advice would you give someone looking for a draft or draft cross? Drafts are very well mannered and level headed, they are so willing to please. There are many different draft breeds in the area so decide what discipline you are reaching for and take the time to do the research. Find a great partner and listen to your horse, you mind find that your Clydesdale just may want to be an eventer. Also keep in mind they are a heavier breed and not the easiest ride some times. They need lots of prep for the task at hand, keep up on the endurance and take the time to build up the muscle. They may get tired faster but they are so willing to work. Charlotte use to barley make it through the 30 min pole exercises, and now she can do an extensive grid work lesson and barley break a sweat. We can also make it through a one day event with her still ready for more, she is so much stronger. Even though drafts seem more burley they still all the pampering like any other horse. They need ice therapy and whole body support help with blood circulation, soft tissue care, and any soreness from training!
What else do you want people to know?
Never give up on your dreams. I know Charlotte and I may never go to a 4* but maybe we can be a demo or a rider on the outside of the competition to help with crowds. But right now we set a new goal every month and try to achieve that goal. We always learn how to be better and keep improving. Charlotte and I are going to be the first Clydesdale at a 3 day / long format this year. My job plays a huge part in all this as well. As a 911 dispatcher for my area I have a very full schedule of training and work that I always make time to ride and care for Charlotte. She is so important to me and the time with her is my oasis away from the stress of my job. I take both my work job and my eventing career very seriously and professional.
You can follow Cortney and Charlotte on this Twitter! https://twitter.com/Eventing_Clyde