Interview with Casey Allen
Yes—she turns and burns! And has a wildly successful partnership with her lovely horse Switch.
The life of a barrel racer is one that largely happens on the road - which means countless miles in the rig and lots of traveling stress for horses. Casey has a routine, a plan, and enough experience to weather any stresses with a smile. This interview was our way to taking a sneak peek into the life of a well traveled barrel racer, and her trusty steed Switch. And did we mention she's still in college? And also an expert at silly jokes?
Tell us about yourself, and your horse. How did you get into barrel racing?
I am 19 years old and from a little town called Vandergrift, Pennsylvania. I am in my second year working towards a degree in marketing at the University of Tennessee at Martin and rodeo for the intercollegiate team there. I call Tennessee my home for nine months out of the year. My main horse is a 12 year old bay roan gelding named RJ A Sandhill Streak, that we call Switch. Switch is a son of A Streak of Fling out of a cutting mare. We ended up with Switch about 5 years ago, and he got his name because we traded for him in a parking lot, so we made a switch! I actually refused to ride him when we first got Switch. He was my moms horse at first, and we nearly sold him, but eventually things turned around and the rest is history!
How did you make the change from local races to national (and international races?)
When I was younger, I had a few really great horses that I rode at local races, so my mom decided to take me on the road at some local rodeos, and then we gradually worked out way up to the farther and bigger rodeos.
What's your day like at the barn - at home. How does it differ at a rodeo?
At home, I have a million things going on in my mind, work, school, or other horses, but when I rodeo I am completely focused on my horse. I will spoil him nonstop around the clock at rodeos because I know the wear and tear on him is excessive on the road, whereas at home he actually gets to relax in his pasture and a break from my onslaught of liniments, Ice Horse treatments, electrolytes, and whatever else I throw his way.
How do you help Switch stay comfortable in the trailer, at new places, on the road?
I am really fortunate that Switch loves to travel as much as I do, and he settles in very well no matter what part of the world we are visiting. I always try to set up his portable electric fence so he can sleep as much as he needs. We keep hay in front of all of the horses and try to stop every few hours and let them rest their legs and have a drink.
How do you balance college life and the rodeo circuit?
I have a color coded planner, and I drink a lot of coffee! I put school first, then college rodeos, and work in other rodeos around everything, but I am definitely lucky to have a supportive coach and group of teammates that help keep me on track. Also, in all honesty, I don't sleep much!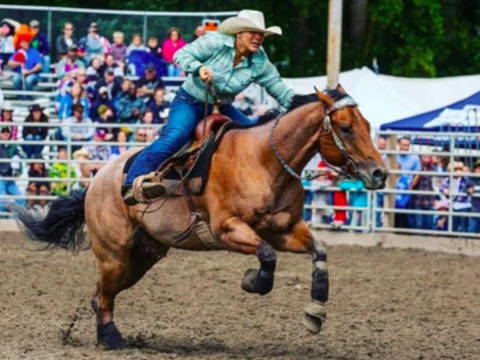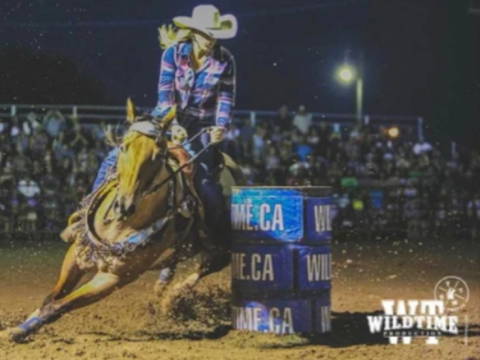 What things (besides ice, of course) do you use to help Switch stay at top form?
I keep Switch on a variety of supplements, and keep good hay in front of him around the clock. I try to stay tuned into Switch's needs as best I can, so if he needs chiropractic, a massage, or just a reminder of how handsome he is, I try to keep up with that and help him feel his best. We do a lot of long trotting to stay in shape, and I rarely work him on a barrel pattern at home. I also breakaway rope and I will often use Switch to rope the dummy. He really likes to be around the roping pen and I think that switching things up (see what I did there?) is key for his mind to stay solid. Ice Horse has been a vital part of my success in the rodeo world. Whether it's swollen legs after all night trailering between rodeos, pre-race Deep Heat, recovery after a slip on infamous rodeo ground, or using a cold pack on my knee after I knock a barrel and have to drive 400 miles to a morning slack, I trust Switch, myself, and my other horses to Ice Horse products. Granted, this is coming from the girl who keeps pepper spray with her at every rodeo. I don't trust just anybody with my team's health.
Where do you and Switch want to go?
I think most days, Switch just wants to go to my grain room and have a party there, so luckily I keep us on track. Right now Switch and I are working on our second IFR qualification. We will also be trying to make it to the College National Finals this year. After we cross those off of our list I would like to go to the WPRA rodeos out west and make a run at the NFR when I am out of school. I have some promising young horses that I think will take some of the pressure off of Switch and help us get there. Switch has given me more than I could ever ask and is the kind of horse that deserves to have his name called in the Thomas and Mack Arena in Las Vegas, and I want to make that happen for him.
What are your equestrian goals? Any other disciplines you want to try?
My brother's girlfriend is a very talented dressage rider and tried to give me some lessons to help my foundation as a rider, but I failed terribly. I'm very open to trying any other disciplines that could make me a better horsewoman and stronger barrel racer. Except for jumping, I think that I would break every bone in my body doing that.
Words of wisdom for someone who wants to go Pro?
Always keep an extra diesel can, filled, in your truck, pack healthy snacks, and maybe go through some Navy SEALS sleep deprivation training to get yourself prepared. Other than that, I'd say the most important thing I would say to somebody wanting to rodeo full time is that you have to believe in yourself and your horse. I know that sounds like a cheap Hallmark card, but it's a tough road and you have to be mentally tough to keep it together and find success out there. You also have to learn to put your horse first in every instance. We can't do it without them, and a lot of people get caught up in the social side of rodeos, or they get exhausted and want to take care of themselves, and forget their four legged friend when they get on the trail.