Meet Charlotte - The Eventing Clydesdale
Cortney M has a special horse - Charlotte the Clydesdale. Turns out, Charlotte is quite the eventer! Here's her story, as told by Cortney.
My Clydesdale is registered through the USA Clydesdale registration (clydesusa.com). Her registered name is HBR's Northwest Commander's Caden, but we call her Charlotte. Her dam was bread on the Northwest Clydesdale farm then sold while pregnant to a farm in Gig Harbor called HBR where Charlotte was born on May 10th 2008. She was raised on the farm for about a year, then sold to an HBR family member who started her under saddle. In July 2011 she was then sold to a lady that did mostly trail riding with her.
I came across a Craigslist add of a Clydesdale in the area up for half lease in May 2013. I called her up and we hit it off great! For the first two months the owner was intent on not selling Charlotte, however she had just had a baby and was unable to continue to care for Charlotte and wanted what was best for her. She came to me with a proposal in June 2013 of a one-year lease to own option. I had created such a bond so quickly with Charlotte I did not want her to leave my life so of course I took the proposal.
The first few months of the lease, we moved Charlotte closer to my home and started equestrian vaulting training. Charlotte was originally purchased to help start a vaulting team in Snohomish County. I grew up with a dressage and vaulting trainer and I wanted to share my love for the sport and teach others in the area. Charlotte is the perfect vaulting horse, she is level headed and extremely talented and athletically built. She looks and acts like a Thoroughbred Clydesdale cross.
A few weeks at our new barn, Charlotte started jumping out of the pasture. One day she was found next door at the Fire station in the bay with the firefighters. We decided to raise the fences and get Charlotte a new friend. I came across a draft mule in need of rescuing on the sunnyside feedlot website and thought he would be perfect, we named him Templeton. The vet was out to check Templeton and asses the next steps for his health. Turns out Charlottes new best friend is actually a 40 year old draft mule. They were inseparable after that.
Throughout the year we moved around from different barns to find the to find the perfect fit. In the mean time we continued to practice dressage and some vaulting but Charlotte did not seem to like it. So we decided to take a break from training and just enjoy each other. We mostly did trail riding at the time. I soon found out with the occasional jumping out of the pasture still, she also enjoyed jumping logs and streams on our trail rides. I could see her eyes light up and ears perk forward every time we came to something we could jump.
I had never done any jumping and was extremely out of my element but I could tell it was what Charlotte wanted to do. After a few recommendations and multiple calls we found the perfect fit! The perfect trainer, barn, atmosphere, support group, and all around perfect barn family. So, the real story of the eventing Clydesdale starts when we moved to Tall Firs Equestrian Centre with Lodestar Training.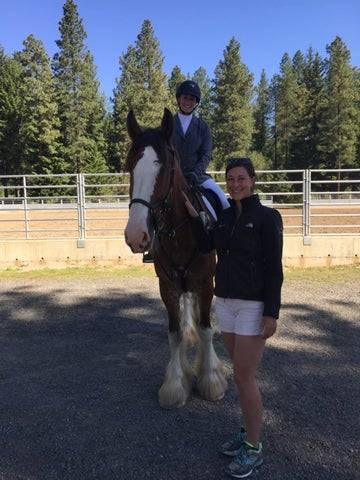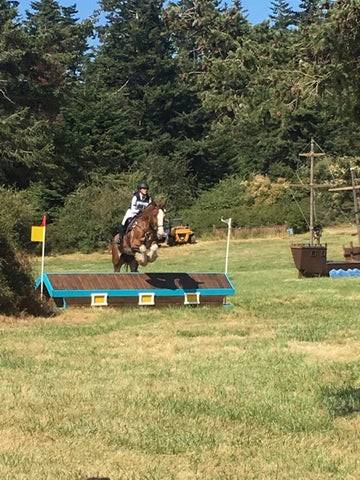 Jenny, our new trainer, took us under wing and listened to my goals and challenges. She listened to my goals of wanting to take Charlotte around a cross country course and start competing. In the spring of 2016 I started my first jumping lesson with poles on the ground, I remember thinking this should be easy. I knew nothing, it was difficult trying to keep my new jumping position and steer and keep the momentum over 3 ground poles! Each day we practiced and trained over our ground poles and grids to get better and better in anticipation of out next lesson.
It means the world to me that I found a trainer that has never given up on me or my dreams. She keeps pushing us to be the best we can be everyday and such compassion for my horse. She never batted an eye when I told her I wanted to learn how to jump with a Clydesdale, she even did extra research on her own time and changed her training techniques to fit our special partnership.
So we were determined to show the world a Clydesdale could do what everyone else can.
We trained out little hearts out the next few months and entered into our very first outing. It was a one day show on Whidbey Island. Our small one day show started out with dressage in the morning and ended with cross country in the afternoon. Along with learning so much packed in that one day we also placed second in our class!
Throughout the rest of the fall into winter we practiced 5-6 days a week. Always changing things up between jump lessons, dressage lessons, and any endurance and conditioning we could do. We found multiple ways to continue to learn more in preparation for the up and coming show season. Toward the end of winter, coming into spring we did 2-3 more one day shows always placing in the top 10. Our first recognized event was just around the corner.
May 26th-28th we were on the road to Equestrian Institute Horse Trials in Washington. I was so nervous but felt very prepared. We got set up with our Lodestar training stall decorations, hand walked the horses around the property and got them tucked in and settled for the night. Picking up my packet made everything seem so real, I was really at recognized event with a full Clydesdale. We made it! Throughout the weekend we made so many friends, learn so much, and ended in the ribbons with a 5th place. Not bad for our first event.
We have continued to show and grow as a team through the spring into summer. We take many lessons and schooling trips to get out and about. Charlotte and I are extremely excited to do all the activities and the vet check in our very classy yellow outfit, everything associated with out very first three day event!
You can follow Cortney and Charlotte's adventures on their Twitter page: https://twitter.com/Eventing_Clyde